In the last few weeks we have been a little diverted from polishing moulds and tempering chocolate by anxious anticipation about two awards that we had been shortlisted for – Scotland Food and Drink Excellence Awards and International Chocolate Awards British heats.
On 27th May I was one of the 850 folk at a sit down dinner in the beautiful National Museum of Scotland – an experience in itself to remember.  I had two products shortlisted in the 'Confectionary and Snacking category', the Hebridian sea salt caramels, and the Wild flavoured thins.  I had been working hard in the weeks up to this on minimising my expectations – two out of three of the short list – it would be too easy to assume that I had more of a chance of winning. So it was a double delight to hear that we had won – firstly because we had won, and secondly because it was the wild flavoured thins that were awarded.  Using wild flavours is at the core of what I do.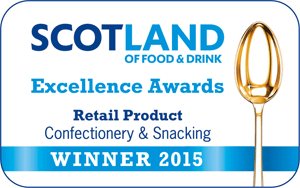 Fortunately the product awards were given out before dinner was served, so I could then relax and enjoy the evening.  However, there was still more to come and the penultimate award of the night was the 'Product of the Year'; this is the judges award given to the one product that in all their tastings and deliberations was considered to stand out, and this year in the Year of Food and Drink, it was our Meadowsweet Thins that did that!  I was amazed, delighted and quite tearful – I love meadowsweet and think it is much underused and underrated.  It is wonderful that in this Year of Food and Drink, a flavour that we have been using since the bronze age if not earlier, should be highlighted in such a way.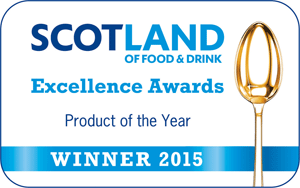 A few weeks later, I travelled to York for the awards ceremony of the British heats of the International Chocolate Awards.  The event was held in another beautiful venue, the Merchant Adventurer's Hall – a medieval building in the heart of the city.  The magnificant hall was crowded with chocolate names that I have followed, reveared, worked with – in particular Andrew Thwaite whose two day course at Inverness College provided the grounding for my own chocolate making venture.  So it was wonderful to receive in this atmosphere a Gold Award for the Smoked Hebridean sea salt and Java milk chocolate, as well as a beautiful glass trophy as Overall Winner in its category.