We have had an extraordinarily warm dry spring, followed by a cool wet early summer, which has lead to a number of interesting gluts and coming together of different species.  The pine season was a little late, but then very fast as the trees made up for lost time!  The mint has struggled this year – emerging early and then never really getting going at all.  This has all been compensated by fabulous elderflowers, roses, wood sorrel, and carpets of pignuts – although I tend not to pick the latter as it requires digging up the whole plant – not really recommended.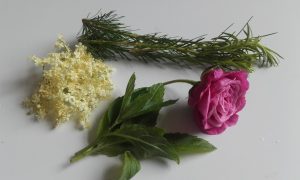 We are waiting for meadowsweet to flower, and the rain to stop so that we can go and explore our local meadows for some special flavours for our selection to celebrate National Meadows Day on 1st July – a wonderful opportunity to celebrate these very special places.
Still plenty of summer left to come – flowers such as lavendar, meadowsweet, and all those lovely fruits – gooseberries, strawberries, raspberries, plums, blackcurrants….. too many to choose from!