Summer has to date been more than a little disappointing; cool, often actually cold, and damp with very little sun.  This has had an affect on the flavours that we have been able to collect – flowers are late for one thing, but also often have very little aroma.  Elderflowers, roses and even meadowsweet have all been magnificant to look at when they have finally flowered – but underwhelming in terms of flavour.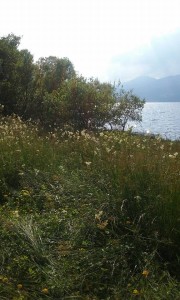 However, mint is still going strong even in August, and meadowsweet looks set to flower for a while – being spoilt with so much water about.  We are enjoying lovely fruits as well – lots of wild rasps and strawberries, lovely blackcurrants and gooseberries.
We have been mildly successful with Sweet cicely, which has been wonderful as I have been trying for a number of years.  And just coming into lavender season so we see the return of the popular lavender and honey ganache.
Looking forward to late summer fruits such as plums and damsons.
More details can be found about our flavourless summer in our latest Blog post