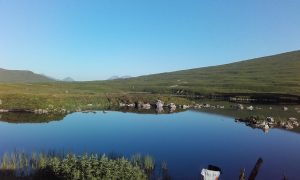 What a summer this has been – quite extraordinary and by all accounts due to continue for some time.  A warm and dry spring, turning into a hot and dry summer has on the whole brought out lots of amazing wild flavours, although they can be a little early and shortlived, so as always be have to be vigilant.
We have flown through the late spring early summer flavours of elderflower, ladies smock, sweet cicely, Breadalbane rose.  This summer we added Ladies bedstraw, Galium verum, to our menu – a lovely honeyed vanilla flavour.  We also tried Sweet woodruff, Galium odoratum – having realised that we needed to dry it a little to develop the lovely vanilla/bitter almond flavour.
Fruits dominate during the summer months – wild strawberries, raspberries, blackcurrants, gooseberries and blaeberries.  Meadowsweet and lavendar are the two main flowers that we use, and rose is we have a late flush of flowers.  Mint, spearmint and basil are the main aromatic herbs.
Our summer holiday this year was in Croatia – so our 'summer adventure' selection is based on the plants and tastes we came across there.  We were lucky to be there during the World Cup – the sound of jubilant and proud Croatians partying into the night will stay with me for some time; unfortunately I don't know how to capture that experience in a chocolate yet!