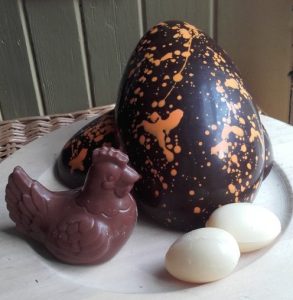 Easter and Mother Day are both quite early this year, and definately before our spring wild flavours start kicking in.  So, our special selections for both are based on flavours that we associate with the traditions around these special days.
Mothers Day, 11th March 2018: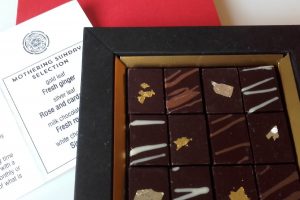 Our fresh selection for Mother's Day this year has four flavours that I have noticed over the years of offering chocolate samples at food markets, that women of all ages seem to enjoy!
Fresh ginger and dark chocolate ganache,
rose and cardamom in milk chocolate ganache,
'gin and tonic'; no, no, not Mothers Ruin! just lovely gin aromatics of juniper, lime and rosemary in milk chocolate ganache
Simnel cake inspired saffron and lemon white chocolate ganache, with marzipan.
I had always thought Simnel cake was an Easter thing, but it seems it was originally for Mothering Sunday – a treat for daughters to take home to Mum, on the one day that they were able to!
We will be making a limited edition batch of these to post out on the 8th March;  they will be available in our 12 chocolate square boxes.  Please place your orders by 5th March 2018
Easter selection:
For Easter we like to focus on flavours that are traditional for this spring time festival:
Hot cross bun; cinnamon, nutmeg and orange in a milk chocolate ganache
Fresh rosemary: still hanging in there in the garden throughout winter, and a fabulous herb for traditional roast spring lamb on Easter Sunday
Simnel cake:  originally a Mothering Sunday treat, this has become a regular Easter indulgence – rich in marzipan and bright with lemon zest
Fresh ginger:  even in spring, the warmth of ginger can be a welcome comfort to help keep the chill at bay (this has also become our own 'tradition' – the Easter selection is the last time in spring that we make the ginger chocolates – the flavour re-emerges at Christmas!)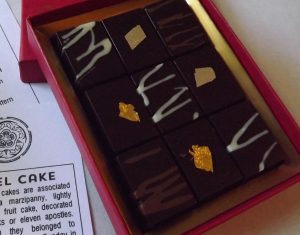 We will be posting our Easter chocolates on 28th March 2018: as there are two Bank Holidays over the Easter weekend, we think it might be safest to post before the weekend!  Please order by 26th March to ensure delivery by the weekend.  The chocolates will be available in both nine and eighteen chocolates gift boxes
Easter Eggs
We are unable to post Easter Eggs as they are just far too delicate.  We do have a limited range available to be picked up locally (Aberfeldy area) and will have some chocolate eggs and hens available at the Perth Farmers Market on 3rd March 2018.  Contact us to find out more.